Featured Success Stories
Steve and Karen
"I am in love and I owe it to LatinAmericanCupid"
I met a beautiful down to earth girl in Colombia named Karen and now we have plans to get married. I am very excited. I went to see her in Colombia, not knowing what to expect and lo and behold she had the truest heart you can ever imagine. Wonderful, soft spoken, very lady like, and respectful does even begin to describe my girlfriend. I am in love and I owe it to LatinAmericanCupid. Keep looking guys. Invest some time and money in getting to know someone and you might just get lucky like me. Good Luck !!! I can't wait to be with her. Thanks Latinamericancupid.com
Steve and Karen
Jorge
"Thank you LatinAmericanCupid!"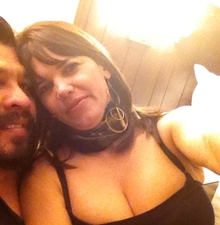 I found someone special through this site and we are thinking about getting married. The site really works and it is safe. Congratulations and thank you in advance it has really changed my life.
Matt & Laura
"Thank you for helping to bring us together"
I first contacted Laura in October. I was happy to learn in her first email that she was looking for a serious relationship and that she wanted to start a family. She wrote such sweet notes, I had a very good feeling about Laura right from the beginning. We talked a lot about me visiting her in Cusco, Peru, and I wanted to. It is a long trip from Washington, D.C., and I was a little intimidated.
I finally decided to go for it, and on January 5, Laura's birthday, she me at the airport in Cusco. She was so beautiful, I remember exactly what she was wearing and how she looked. We had an instant connection, despite the language barrier. I had been practicing Spanish, and Laura know a little English, but we found it difficult to talk. With the help of an electronic translator, we made progress. It was good to get to know her with her family and in her country. She showed me amazing sites and great food. She surprised by kissing me on the street in Plaza San Francisco on the first day, and on the second day I asked her to be my girlfriend. When we said goodbye at the airport, it was very sad, but I know that we would be together again.
We were married on March 18, and we went on a honeymoon in Panama. We are currently waiting for the immigration process, and making the best of email and chatting online. We are excited to start our life together, and want to thank you for helping to bring us together.
Katiusca
"Thank you LatinAmericanCupid!"
I found my true love on Latin American Cupid! A wonderful Australian man who was made just for me in the heavens. We are now married 6 months and we are so happy together. Gracias LAC!
Caesar
"Thank you LatinAmericanCupid!"
Thank you Jesus! and thank you Latin American Cupid i found the lady of my life here and she has been taking my breath away ever since. Met in Nov of 2011.. i proposed last weekend, - I just want to tell everyone don't give up, if your serious about finding a lifelong spouse just be honest about what you want and take your time getting to know them.. it makes it all the more special when you meet.
Cupid Media, the Cupid Media Logo and LatinAmericanCupid are trademarks of Cupid Media Pty Ltd.