Featured Success Stories
Denise
"Somos uma familia perfeita"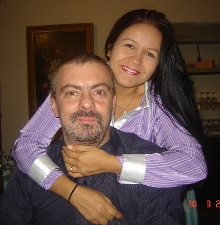 Oi, hoje ja faz 2 anos que moro aqui na Italia, tenho uma linda filha e um lindo marido que encontrei aqui na LatinAmericanCupid. Nos conhecemos no inico de 2007 e nos casamos em 14 de maio de 2008. Hoje somos uma familia perfeita aos olhos de Deus e muito felizes. Espero que minha historia sirva de exemplo para quem entrou no site para encontrar um verdadeiro amor, e UM VERDADEIRO AMOR consiste em ser sincero e verdadeiro, pois o amor com mentiras nao existe. Agradeço primeiramente a Deus e depois a este site, e que continuem unindo pessoas de perto ou de longe. Deixo um forte abraço a todos
Marcia
"I would like to thank the site"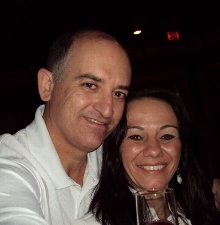 Everything in life has its time, the right time, the right person. I would like to thank the site for having provided our meeting. It was the second time that I joined the site, believing it could find a person to form a family with and in fact I found. We are together and happy. Building each day our objectives.
Sven & Natalia
"Ich habe die Liebe meines Lebens auf LatinAmericanCupid gefunden."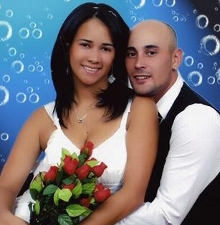 Ich habe die Liebe meines Lebens auf LatinAmericanCupid gefunden. Sie heisst Natalia und ist aus Medellin, Kolumbien. Nach dem wir täglich gechattet haben, habe ich ich Sie endlich kennenlernen wollen und bin für 15 Tage nach Medellin geflogen. Als ich sie das erste Mal in natura gesehen habe war es schon um mich geschehen. Sie ist meine Traumfrau. Alles an Ihr ist perfekt und nach dem die 15 tage wie im Fluge vergangen sind, musste ich ohne Sie wieder zurück nach Madrid. Für ganze 3 Monate musste ich es ohne Sie aushalten, bis ich wieder für einen Monat zu ihr geflogen bin. Ich habe sie auch sofort geheiratet und bin nun seit dem 14.09.2009 mit ihr verheiratet und wir erwarten jetzt im Juni 2010 unser erstes Kind. Danke LatinAmericanCupid, für mein neues Leben mit meiner Frau und baldigem Kind. Aus Colombien muchas gracias. Sven
Guido
"Meine Traumfrau habe ich bereits kurz nach der Anmeldung auf der Seite getroffen."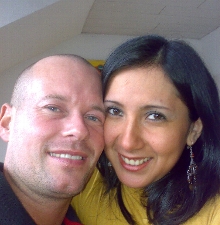 Meine Traumfrau habe ich bereits kurz nach der Anmeldung auf der Seite getroffen. Wir haben einige Tage gechattet, haben dann angefangen zu telefonieren. Bereits dann stellte sich heraus, dass wir sehr gut zueinander passen und grosse Sympathie füreinander haben. Nach circa 3 Wochen haben wir uns dann getroffen und sind seitdem ein Paar. Hoffentlich für sehr lange.
Letícia
"Thanks LatinAmericanCupid"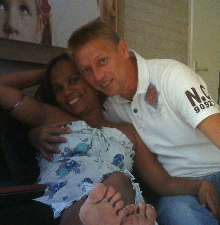 I am brazilian and I was a LatinAmericanCupid member since 2006. I talked to some men, but nothing happened. So, December 2008 I decided to pay for a Gold membership for 3 months. In the first day I was gold I found Frank, my boyfriend. He is from Netherlands. In one month, he went to my city to meet me. We were really in love and he invited me to go to Netherlands to stay there for 3 months. He stayed 3 months more in Brazil and in December 2009 I went back with him for 3 months more together. Now we are planing on living together and I will go back to Brazil to apply for my visa! Thanks LatinAmericanCupid for helping me find such a nice person! I am really happy! And I advice people that are looking for a true relationship don't give up, EVER!
Thanks a lot,
Letícia
Cupid Media, the Cupid Media Logo and LatinAmericanCupid are trademarks of Cupid Media Pty Ltd.