Featured Success Stories
Annie
"I met my beautiful husband"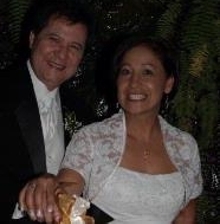 Hello I just want to share my experience with you here because in this site is the one that let me met my beautiful husband now I met him here then, we decided to see each other in Texas them he fall in love with me so did I, I thought it was a wonderful experience I found the love that I was looking for. We were engaged like 3 months ago know we became husband and wife, we came to my country to we marriage over here in Costa Rica and we got married like a week ago know I married for all my life because I know that I have found the right man for me now. THANK YOU GUYS !!! THIS WAS THE BEST SIDE EVER!!!
Jan
"Thanks LatinAmericanCupid"
Hi everyone, Like many of you I had my doubts when I came here...but soon the woman of my dreams came into my life!! From the first moment I talked to her I knew she was the one!! After some some months of knowing each other we decided to meet... So I went from Holland to Peru to be with her 5 weeks...It was the most wonderful time of my life. We were so in love and we both knew this is love forever!! But after 5 weeks I had to go back. Already the next day we started the procedure how to get her here, together with me...And than, after a few weeks the big news: my sweetheart is pregnant!!! We love it!! She is coming to me as soon we finish the exam. And even before our baby is born we are going to marry!! Thanks LatinAmericanCupid for introducing the woman of my life!!! good luck everybody!! Jan and Ivonne
Blanca nubia
"Thanks LatinAmericanCupid"
Some day I wanted to find a man that i thought maybe exist in my mind, not more, but I found the best husband of the world!!! Thanks LatinAmericanCupid because in this page I found a man that is so kind, polite, considered and comprenhensive, that man now is my husband!! Now We are happy together, THANKS GOD AND THANKS YOU!!
Ivonne
"LatinAmericanCupid"
I found that special person i was looking for a long time ago!!!! Five months ago I met the most amazing,sweet and special man on earth. When I saw him at first time, I felt something special inside me. At first I was afraid of emailing, because I was on this site for a long time waiting for that special person and nothing. But now I´m so happy that I did. 1 month ago,he came to visit me to Peru,I was so nervious and excited waiting for him to the airport and when I looked at him, I said...wowwww and I knew he would be the man of my dreams. That month was magic and everything was more than perfect..everything was far more perfect than we thought it would be. We are so in love with each other and now I want to visit him and to his family and then he will come back to talk to my family about our future plans. We both want to marry in Peru and in the Netherlands. Before meeting each other in person,we knew we wanted to spend the rest our lives together...After meeting us in person, all we want right now is to be together forever. These days away from him will be so painful,but we know that we have a whole life together and only we can do is waiting. Jan, my sweet baby, is just more than perfect ...and YES true love exists if u really want it to exist. I found love in his eyes, in his mind, in his whole person and he knows I love him so much too. Thank u so much to LatinAmericanCupid, because we could find us and now there is nothing,even the distance that can apart us..
Eric
"Latin American Cupid was the medium that made our inevitable union possible."
Sarai connected with me in a cyber café and she was the most beautiful woman I had seen. She was happy and smiling, and I thought she might be pulling a prank because she never stopped laughing. As we talked, I learned she laughed because she has an appreciation for life that others rarely know I wanted to be part of her joy. Neither of us shared the same language. We used translators until I could refresh my Spanish. Our first phone conversation lasted less than five minutes. But we kept at it for a year, knowing our feelings for each other would overcome the language barrier. We were right. She sent regular text messages that had me thinking about her all day. I visited her in Peru for the first time and felt comfortable with her immediately. I loved it best when she cooked for me. We were married this summer on a beach in Peru and the whole thing felt predestined. It still does. Latin American Cupid was the medium that made our inevitable union possible.
Cupid Media, the Cupid Media Logo and LatinAmericanCupid are trademarks of Cupid Media Pty Ltd.