Featured Success Stories
Ivonne
"LatinAmericanCupid"
I found that special person i was looking for a long time ago!!!! Five months ago I met the most amazing,sweet and special man on earth. When I saw him at first time, I felt something special inside me. At first I was afraid of emailing, because I was on this site for a long time waiting for that special person and nothing. But now I´m so happy that I did. 1 month ago,he came to visit me to Peru,I was so nervious and excited waiting for him to the airport and when I looked at him, I said...wowwww and I knew he would be the man of my dreams. That month was magic and everything was more than perfect..everything was far more perfect than we thought it would be. We are so in love with each other and now I want to visit him and to his family and then he will come back to talk to my family about our future plans. We both want to marry in Peru and in the Netherlands. Before meeting each other in person,we knew we wanted to spend the rest our lives together...After meeting us in person, all we want right now is to be together forever. These days away from him will be so painful,but we know that we have a whole life together and only we can do is waiting. Jan, my sweet baby, is just more than perfect ...and YES true love exists if u really want it to exist. I found love in his eyes, in his mind, in his whole person and he knows I love him so much too. Thank u so much to LatinAmericanCupid, because we could find us and now there is nothing,even the distance that can apart us..
Eric
"Latin American Cupid was the medium that made our inevitable union possible."
Sarai connected with me in a cyber café and she was the most beautiful woman I had seen. She was happy and smiling, and I thought she might be pulling a prank because she never stopped laughing. As we talked, I learned she laughed because she has an appreciation for life that others rarely know I wanted to be part of her joy. Neither of us shared the same language. We used translators until I could refresh my Spanish. Our first phone conversation lasted less than five minutes. But we kept at it for a year, knowing our feelings for each other would overcome the language barrier. We were right. She sent regular text messages that had me thinking about her all day. I visited her in Peru for the first time and felt comfortable with her immediately. I loved it best when she cooked for me. We were married this summer on a beach in Peru and the whole thing felt predestined. It still does. Latin American Cupid was the medium that made our inevitable union possible.
Maribel
"I met the man of my dreams"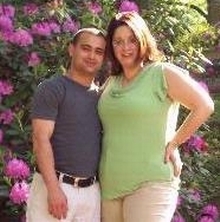 I received an email from member that he was interested in getting to know me and for me to call him. We communicated several email via this website in 4/08 then I decided to call him in 5/08 and soon after met him in person. We connected in all areas: physical, mental, spiritual and emotionally. We decided that we were soul mates and got married on July 19, 2008. Thank you for having this website as I met the man of my dreams. Maribel
Paola
"Thank you LatinAmericanCupid"
Dear friends of LatinAmericanCupid, I want to be grateful for them infinitely for that thanks to You I knew to the real love, want to share my history. My name is Paola I am Ecuadorian and Altan is from Turkey, we knew ourselves the first days of October, 2006 since we start ourselves writing and chat every day we were feeling like, knew ourselves little by little, in spite of the fact that we had spent the 2 for very sad, and painful experiences. Divorced I and with 2 little angels I was refusing to believe again in the love, but little by little I knew it so he said to me that permission to Ecuador at the end of December, I come on December 21, 2006 when I saw in the airport I understood that it was my another half felt as a school girl when he feels Butterfly in the stomach, again I felt what I never thought, there was many chemistry strictly between ourselves well knew to my family my princesses, already for christmas spend in Canoa a very pretty beach spend the Christmas together, for December 29 it he, popped the question in marriage my dad, that seems to be rapid but the 2 we feel that we are one for other one. Already for January 2 I return to his country Turkey, and be precise of February he, gave to me the news on that permission again I put very happily, we pass 15 wonderful, and related days of March before returning to his country find out that was pregnant, it was a great surprise it he was super happily since for him, he is his first son and for my third, good the months of pregnancy I was very sad because he, was not with me but this did that our relation was fortifying more since we are surprised very much, I pass the time and at the beginning of October one day before my birthday came and we were united before the arrival of our baby, it was the day more specially and beautifully for us since there was born the fruit of our love, an angel that us came to change the life already to do us very but very happy. He, had to return to Turkey the first days of November so we decide that at the end of January I would be going to visit it and to knowing and to presenting our son to his dads. We pass it very happy it was one month and a half wonderful and to give us the opportunity to know ourselves even better, now I am in my country we are separated for the present since I have to see my princesses Nicole and Ana Paula since my ex-husband does not give me the permission of the babies, he, is going to come in August and at the end of December of this year I am going to be going to his country to live and be happy and to marry since as they say God is late but does not forgets and God wanted to give us the second opportunity to be really happy, and we him are very grateful, and to you for whom if not … I had not known to my another half, , And I want to say to them that the distance has not been an impediment because when there is love everything can in addition one there deserves the second opportunity to open your heart. Thank you LatinAmericanCupid if it works only dates the opportunity to open your heart, as which we all have our another half in some place of the planet
Jean-pierre
"NOS FUIMOS ENAMORANDO"
QUIERO MANISFARTALES MI AGRADECIMNENTO A LATINAMERICAN CUPID, POR QUE POR MEDIO DE ESTA PAGINA ENCONTRE UNA MUJER MARAVILLOSA, SOY FRANCES Y ELLA COLOMBIANA, DEFINITIVAMENTE EL AMOR NO TIENE FRONTERAS, NOS CONOCIMOS EN EL MES DE DICIEMBRE Y DESDE ESE TIEMPO TUVIMOS UNA BUENA CUMUNICACION, LUEGO, FUIMOS INTERCAMBIANDO IDEAS Y ASI NOS FUIMOS ENAMORANDO, HASTA QUE VENGO A COLOMBIA PARA ENCONTRARLA!!!