Featured Success Stories
Tanya
"Thankyou Latinamerican Cupid. "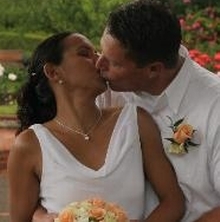 Thankyou Latinamerican Cupid.
Shane and I met on your website in March of 2006. We instantly hooked on each other, so we made plans to meet the fallowing June, and again in November when Shane proposed to me. I came to the USA in April and we were married exactly a year from our first face to face meeting in June. The only thing that could complete this fairytale like story is for us to be blessed with children. Wish us luck and thanks again.
SHANE AND TANIA
Mary
"Cuando nos vimos fue como un flechazo de cupido"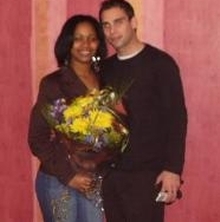 Bueno el y yo nos conocimos por medio de esta pagina. Yo le mostre insteres y despues el a mi. Despues de tanto hablar por esta pagina el me mando un mensaje donde me preguntaba si yo quieria darle mi msn para que nos conoscamos mejor. Yo le dije que no habia ningun problema y se lo di. Duramos un par de semanas hablando. Y como vivimos un par de horas de distancia planeamos una cita. El dia del encuntro fue un sabado. Quedamos de encontranos en la estacion de tren de mi cuidad. Yo estaba bien nerviosa hasta pensaba en dejarlo plantando, pero senti como la nececidad de ir. Cuando llegue a la estacion de tren no lo veia y mas nerviosa me ponia. Despues el me llamo y me pregunto que dondde estaba. Y yo le dijo en la estacion y yo le dije yo tambien estoy aqui. Hablando por telefono llegamos uno al otro.Cuando nos vimos fue como un flechazo de cupido. Fue muy emocionanate. El venia con un ramillete de flores para mi. Para mi fue una sorpresa no esperaba que el me trajera flores. Luego fuimos a comer algo y a charlar y despues al cine. Despues fuimos a mi casa y yo me cambie de ropa y nos fuimos a la disco. Gozamos un moton y hubo besos y todo. Ahora segimos en contacto y quien sabe que pasa despues.
Badboy
"I just got married to a lady that I meet on this site "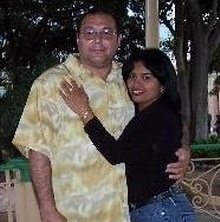 Yes I want to thank you!! I just got married to a lady that I meet on this site and i am very happy now!! It took me a while to find her and now her is in my arms every nite, all i want now is for her to be every happy too!! i do tell my firends where I meet her on this site!
Tom
"Both Gloria and I are very grateful to Latin Cupid for our meeting"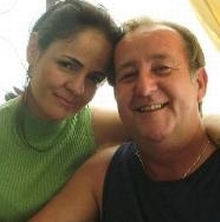 Both Gloria and I are very grateful to Latin Cupid for our meeting. I saw Gloria in July of this year that my first words to her were. When God made your face he must've been thinking of his angels so from that day on I called her a beautiful angel. We e-mailed each other for about two months and for the last three weeks we were able to Web can each other. We felt very close to each other and I thought it was time for us to meet. So in October I travel to Medellin,Colombia to meet my beautiful angel and an angel I did meet. I spent 10 wonderful days with her and her wonderful family. I asked Gloria is she would marry me and her response was an overwhelmingly Yes, Yes. Gloria is such a beautiful woman on the inside and outside she is kind caring and very loving woman. We are now working on her fiancé visa and hope to get her to United States as soon as possible where we plan to marry. I plan on taking another trip first of December because I can't stand to be away from her. So for all you people who are often are looking remember your soulmate is there you have to be patient and look. Good luck to all the fine people I know you will find someone. Thanks again Latin Cupid Thomas& Gloria
Andrew
"I am proud of my wife and you can be proud of your work"
In this day and age we are promised alot, certainly on the Internet. Your company told me that I would meet many lovely Latinas. That was true. It is with my great pleasure that to say that for the last 13 months my goddess has worn my diamond wedding ring and I have worn her beloved grandfather's wedding band. Yes dealing with Immigration has been difficult, but she is worth it and so much more. Vilma has the following: her work permit, her Social Security card, a sport sedan, her resident alien card, her mother living with us, a professional job (accounting specialist) with a respected company (Insurance Licensing Service of America), money in the bank, peace, security, plenty of love, and the biggest smile you will ever see. My family and friends adore her.
I cannot guarantee that LAC will work for everyone, but for us it has been a God-send!!!!! Here is a copy of one of our wedding photos. My boss, the country judge, marreid us. I am proud of my wife and you can be proud of your work.
Sincerely,
Los Tejanos en Amor (The Texans in Love)
David and Velma
Cupid Media, the Cupid Media Logo and LatinAmericanCupid are trademarks of Cupid Media Pty Ltd.