Jeff
"We found each other on this site"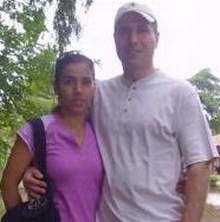 Me and Liliana found each other on this site March of 2006, after a few weeks of chatting and phone calls we agreed, that we had found love in each other, I made the Journey to Colombia that June of 2006, Upon meeting at the airport , we both sensed the Love and Passion, I went back in October 2006, and then again in March 2007 , and then once again for our wedding day on September 5 2007, All I can say for me it all worked out Beautiful , Thanks Jeff
Altan
"We always remember how LatinAmericanCupid makes us be in love"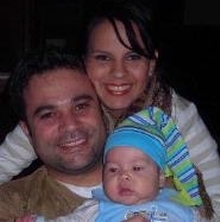 It is a love story of Paola (Ecuador) and Altan (Turkey)
We met each at the begining of October 2006 in LatinAmericanCupid website. We had a short time chating before meeting. We really felt the difference of our loves in our hearts which makes us a special to each. The first meeting was amazing which is placed in Guayaguil-Ecuador. We never felt that we were a dating person, just like a couple who had lived together.
We spent a nice Christmas and New Year time of 2007 with a good news of our engagement on December 2006. Paola has changed my life deeply that I never had lived it with her 2 sweet daughters (Nicole and Ana Paula)
When we were on the way of built up a nice and strong family be in together and an other good news had come on March 2007. The junior Kartal. It was the 1st baby of me and 3rd baby of Paola. But 1st son of us. An angel had come to change our life and let us so much happy on 27th October 2007 with a name of Altan Andre.
Paola has visit Turkey to meet of my parent with my son. They loved each so much what ever they expected.
My latin love is going to be back to live in Turkey on December 2008 to be a great family that ever she dreamed.
God can be late but doesn't forget you and give you a second opportunity. We never thought our past because the pasts bring our futures. We are going to get married in February 2009 in Turkey.
May this will be not a beginning or the end of a new chapter in a love stories that will endure forever, and bring joy and happiness to each lovers.
We always remember how LatinAmericanCupid makes us be in love and let us be the strong foundation on which our life together will be built.
Paola - Altan
James
"What a wonderful experience!"
Who would have known that it was possible to find a love so perfect, a woman so right, a match so complete! I know now! I have found the most wonderful woman ever that is everything I could have imagined. I have never known love this great, or companionship so wonderful. Now I do! The chances of Sonia and I meeting in life were so remote except for this wonderful website and a true miracle from God. I sent an interest to Sonia on December 5th because her profile looked so similar to mine. Then she responded on the 6th, and after two months of writing and talking on the phone Sonia came to visit with her friend and it was the single most powerful experience of my lifetime. I will never forget looking into her eyes and knowing this was the woman I wanted to spend the rest of my life with. Sonia has visited me several times to meet my children and I have visited her several times to meet her family as well. We spent a week in the Caribbean and had the most wonderful time of our lives. We will be visiting the rest of my family in April so I can introduce them to the most beautiful person I have ever met, one whose beauty on the outside is equally as beautiful on the inside. We share so many common interests that would have never been discovered without meeting through this website. We have plans to get married and we both realize that this was meant to be........ We both have so much to be thankful for and realize that this has been a dream come true for us. This site was full of so many truly wonderful people with good intentions and hopeful futures and I can only say that learning about people this way is so much better because you have to listen and communicate very clearly since you can not use the sense of sight. And listening and communicating clearly are the basic foundation for a successful marriage. What a wonderful experience! Trace
Douglas
"We met using the LatinAmericanCupid website"
I am currently married. We married on May 05, 2007 in Barranquilla, Colombia at the Los Trinitarias event salon. We met in June 2006 using the LatinAmericanCupid website and the rest is history. I love this woman with all my heart. Thank you for introducing me to Nelly. She is the love of my life. We are very happy.
Jul
"I WISH EVERYONE THE SAME LUCK AS I AM "
I MEET LILI A REAL WONDERFUL, LOVING LADY. I WAS OVER TAKEN BY THE NUMBER OF RESPONSES I RECIEVED IN THIS PAGE; HOWEVER ALONG CAME THIS TENACIOS, LOVING WOMAN. SHE FASCINATED ME IMMEDIATELY AND I FOLLOWED MY FEELING AS I WAS LOOKING FOR A FAMILY ORIENTED , CUTE , AND POSITIVE WOMAN.
I FLEW TO BOGOTA IN OCTOBER WE MET, IMMEDIATELY CONNECTED AS IF WE HAD KNOWN EACH OTHER FOR A LONG TIME. SHE SUPRISED ME IN EVERY MOMENT. I WAS TOTALLY AMAZED HOW WONDERFUL HER FAMILY IS AND HER PARENTS TO THIS DAY ARE VERY MUCH IN LOVE, IT WAS A BEAUTIFUL TO OBSERVE SUCH.
WE FLEW TO CARTEGENA AND BY THE END OF THIS TRIP I KNEW SHE WAS THE ONE I WANTED TO SPENT THE REST OF MY LIFE WITH. iT FELT WONDERFUL TO WATCH HER EXPRESSION AS I GAVE HER AN ENGAGMENT RING. AND SHE GRACIOUSLY ACCEPTED.
I WISH EVERYONE THE SAME LUCK AS I AM BLESS TO HAVE LILI IN MY LIFE, WE ARE WORKING OUR PAPERWORK AND EXPECT HAVE NEAR MY SIDE IN THE NEAR FUTURE.
JULIAN & LILI